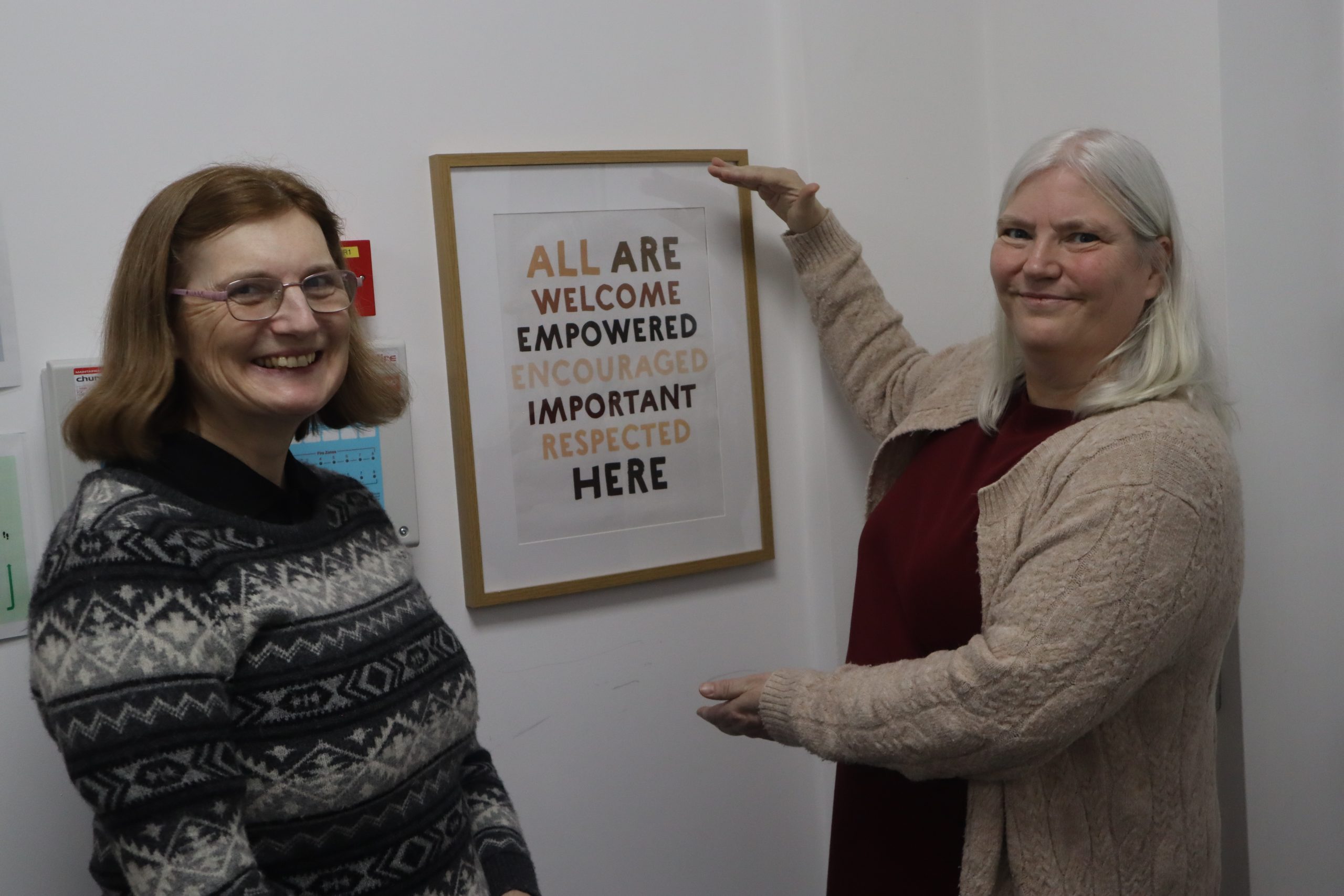 For most of my life I have suffered from mental health issues. My main diagnosis is Emotional Unstable Personality Disorder, although I also suffer with depression and anxiety.
Since joining Inclusion Gloucestershire as a Volunteer for MHELO  and the CPAG have become an Expert by Experience. Being an Expert by Experience is important to me as I have on various occasions been able to share with others, including with professionals, a glimpse of what it is like to live and experience my struggles and my journey of living with mental health issues.
By being an Expert by Experience I feel that I can make a difference to others in Gloucestershire who suffer from mental health issues as by sharing my experiences of living with mental health issues I hopefully can help shape and improve services.  Before Christmas I attended a mental health workshop on Crisis care.  At the workshop I shared my experiences of crisis care which felt empowering, I felt respected and listened to by the professionals who were in attendance at the workshop.  In addition, I felt human not just a number. I was respected and felt equal. It was not 'them and  us', which too often I have felt as a service user.
Going forward I hope that I can continue to  use my experiences of living with mental health issues  to improve services here in Gloucestershire as well as being a voice for those who, for whatever reason are too scared to speak out and say how they feel.
Peter is an older man who started coming to the Hub in December 2017.  He told us he spent a lot of time on his own but was clearly a sociable person and enjoyed communicating with others.  At the beginning he would come into the hub, have a cup of tea and leave.
Access to Health ran a workshop on Heart disease in January 2018 which we encouraged him to attend with others from the Hub.  Although it was a struggle for him to attend, he did and fed back how much he enjoyed taking part in the workshop.
This was his starting point for engaging with activities, he understood that he would not be pressured into doing anything that he did not want to do, and we would go at his pace.
Peter has since attend courses with ArtShape and Adult Education, took part in the Gloucester Carnival, took part in early evening activities such as going out for a meal, attended a Social Care Institute for Excellence event in London with Inclusion Gloucestershire.
Peter also attends the Health Action Group with the 2Gether Trust, attends the Learning Disability Partnership Board, gets involved in the day to day running of the Hub and more recently has completed two Photography courses.
Joe started coming to drama session he was quite shy and initially did not want to join in with all activities or exercises. Over time, the team and wider group got to know Joe, encouraged him to participate to try new things, and join in the activities.
His confidence and skills increased and he began to take part in our plays and films.  He actively took part in discussions and the creation of scenes and characters for productions including sexual abuse, supported living and access to health films and performed in our challenging behaviour and self neglect plays.
He was excited by the opportunity to work with professionals to help them to understand challenging issues or topics.
As his skills, confidence and experience increased, he has been involved in opportunities outside of Inclusion Gloucestershire with for expert by experience roles with 2Gether NHS, helping to train medical students around working with people with learning disabilities.
Joe has also pursued other creative interests by undertaking a DJ course with The Wilson in Cheltenham and helping to run a learning disability DJ night.
Joe has become a longstanding member of the group and now encourages new members to join in in the same way that others did with him.
Inclusion Gloucestershire undertook a Mental Health quality check in a supported living setting.  Terry and Jess, two out of the ten people living at the setting met with the team and took part in discussions about their experiences of living in that setting.
Through comments made by Terry and Jess, and by staff there, we were able to identify that at this setting there was a general sense that people were a bit isolated, and there wasn't much for them to do.
We addressed this in the quality check action plan – directing the provider to offer people activities, to have discussions with the people they support about possible activities and we also directed the provider to address the issue of isolation for Terry.
When we visited the setting for a follow up and met with Terry who took part originally and with the manager, the response was positive and the provider had addressed each of the actions.
Terry who was isolated and not going out, was now going out twice a week. The provider had resolved their transport issues and were actively working out better ways for people to get out and about, for example they were sorting out bus passes for people.
At this setting there was a no-alcohol rule. We had challenged this and the provider responded to this action, agreeing that they should not be denying people the right to drink and that they had re-written their policy, putting in place measures to protect two people who had problematic relationships with alcohol.
This was an example of where we were challenging an institutional practice, and ensuring that providers tailored their support according to the needs of individuals and not using a one-size fits all approach.
Through their meeting with the quality checker, Terry and Jess have helped to influence changes in this service which benefit their own lives, but also those of the wider service user group.