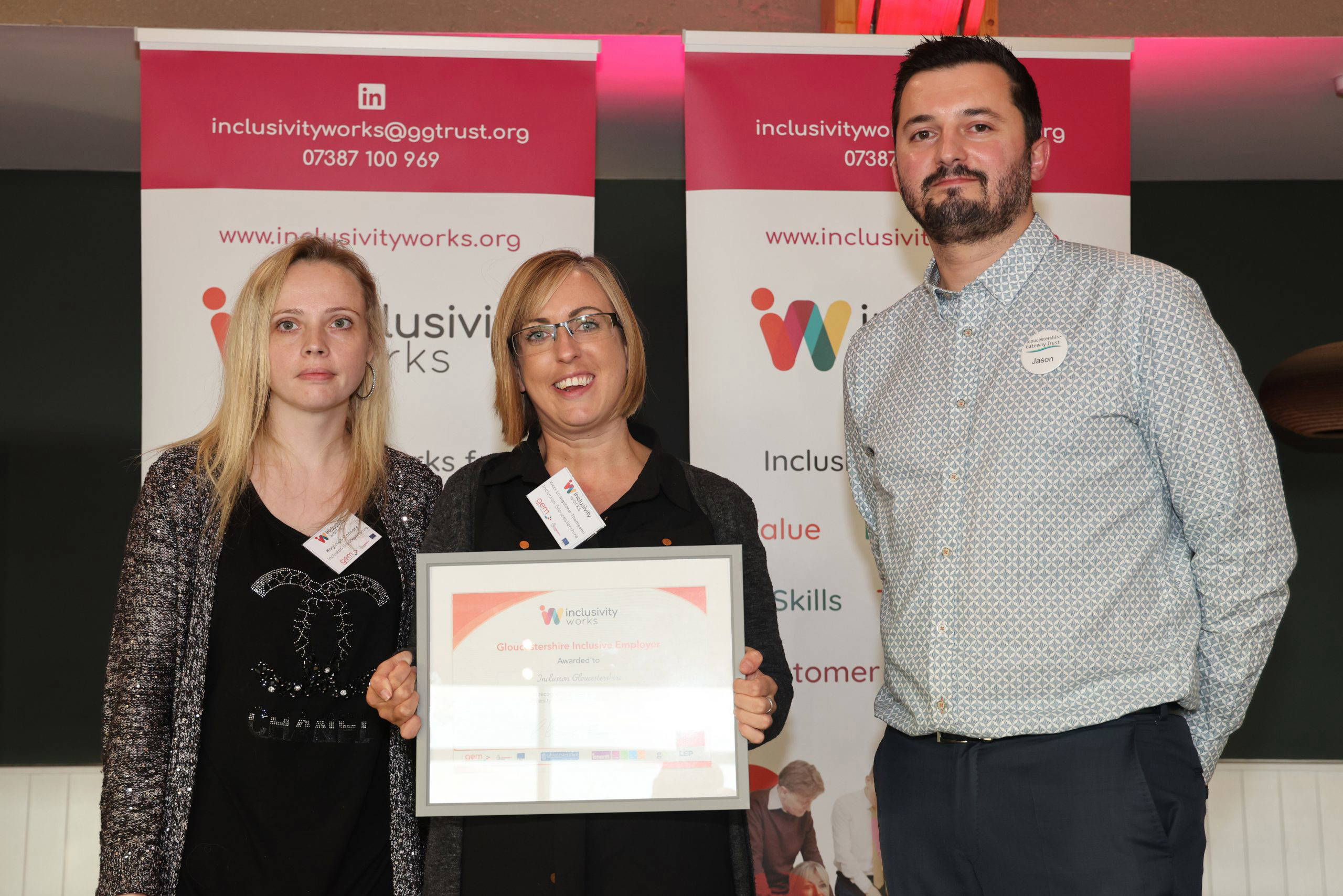 On Wednesday 6 October, Inclusion Gloucestershire were awarded as a Gloucestershire Inclusive Employer as part of the Inclusivity Works campaign from the GEM Project.
We are hugely grateful to be recognised in this way as inclusion is at the heart of all we do. We all have a responsibility to remove excluding and disempowering barriers, and rather than try to fit people into boxes, make the boxes fit the people! Some of the ways that we practice inclusion include:
Using inclusive recruitment processes including Easy Read application forms, informal group interview sessions, and sharing interview questions before the interview
Having safe, quiet spaces in our workplaces for people to use if the environment becomes too busy or overloaded
Valuing diversity and lived experience, seeing it as a strength, and essential to the work that we do
Co-creating policies and processes with staff to make sure that they work for them
Offering flexible work patterns, recognising that people work best at different times of the day
Making time for the things that are important to our team, whether that is tea and toast in the morning, having time to debrief after meetings, or researching someone's special interest so we can chat about it as a team
It was really energising and inspiring to hear from other winders about the work that they do, and we are committed to keep improving and supporting others to be more inclusive. Do get in touch if you think we could help you, through training, advice, or quality checks – info@inclusion-glos.org
About Inclusivity Works:
Unique to Gloucestershire, Inclusivity Works aims to make the county a beacon for inclusivity in the workplace.  It intends to inspire and support employers considering the benefits of an inclusive workplace to their business.
It has been created by the GEM Project, which takes its name from 'going the extra mile'.  A socially inclusive employability programme, it provides support for people who have barriers to employment.
Inclusivity Works offers guidance and resources for employers to support the sustainable development of inclusive workplaces across the county.  It is funded by the National Lottery Community Fund and the European Social Fund.
For more information go to www.inclusivityworks.org or email inclusivityworks@ggtrust.org